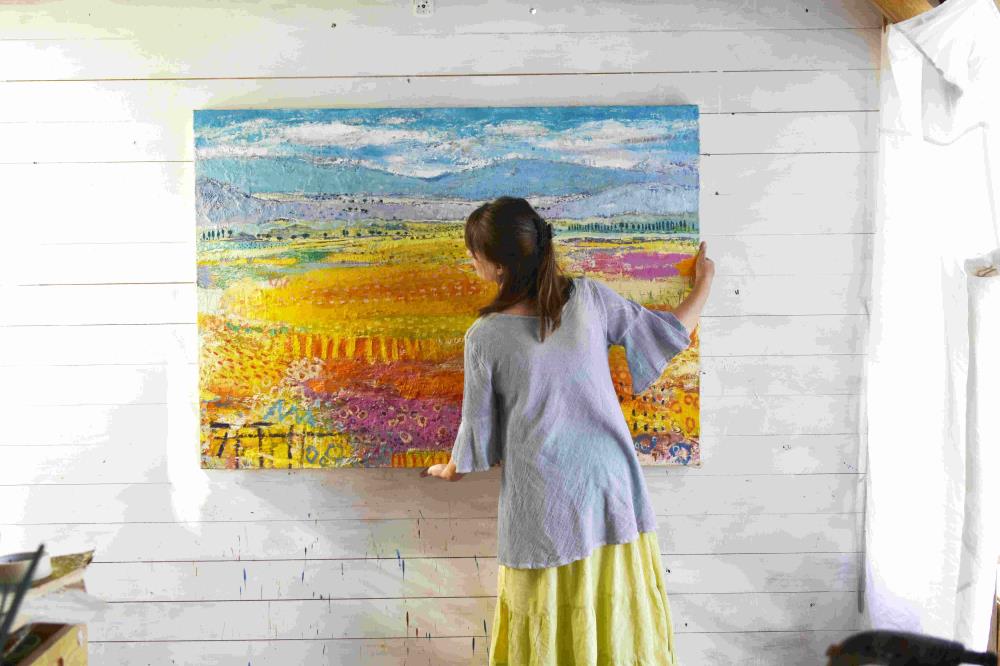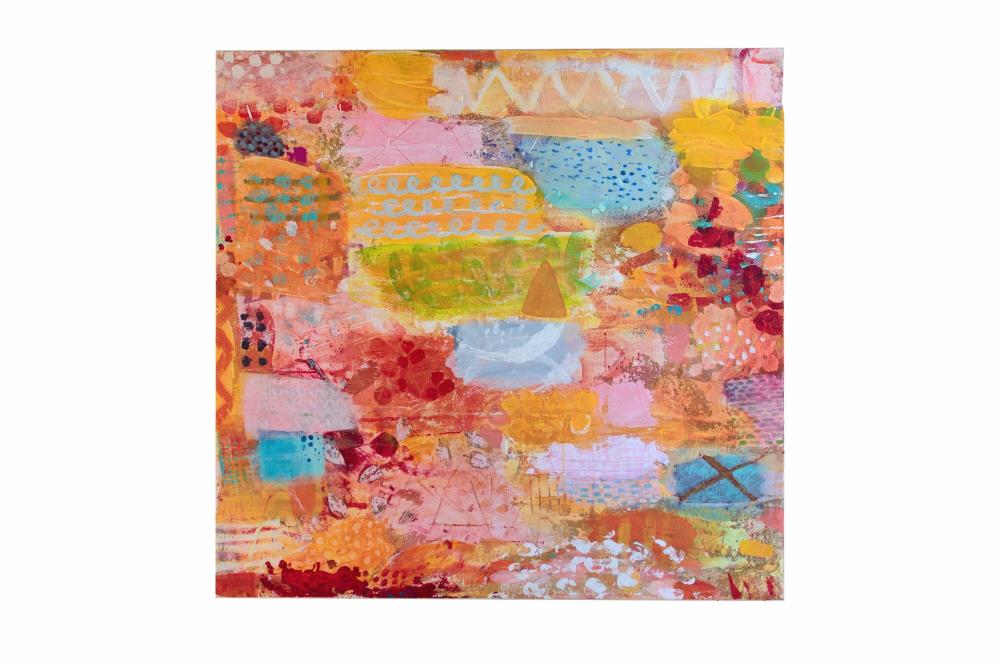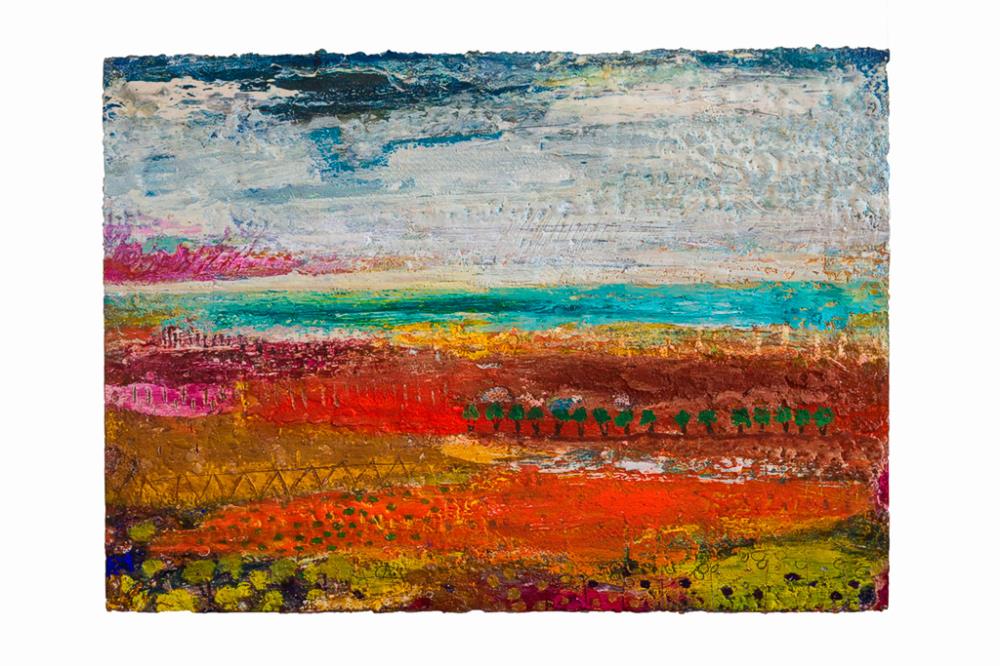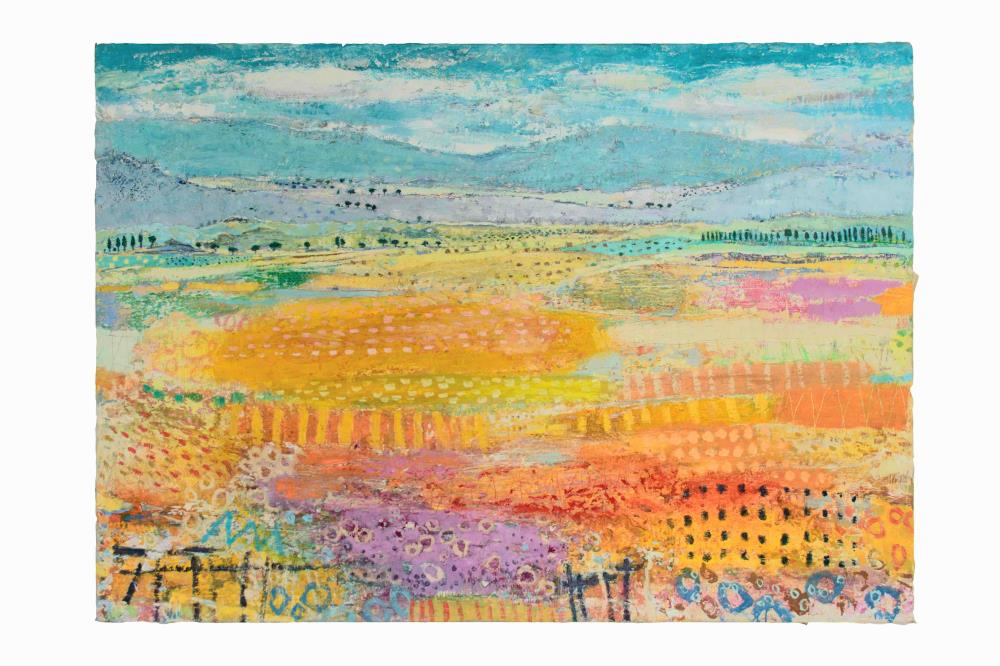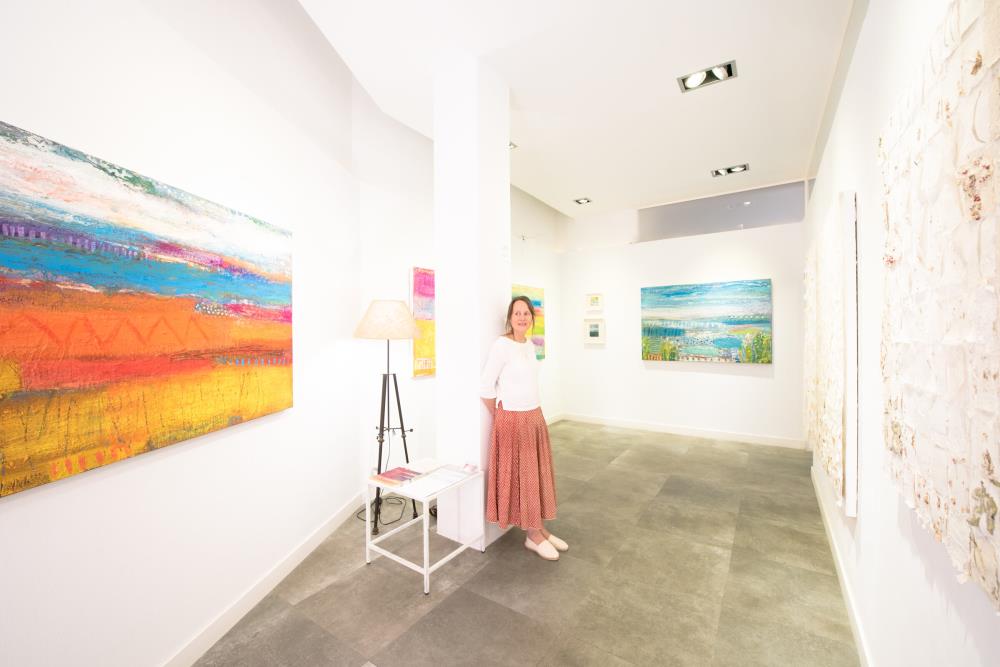 Annabel Keatley
I have shown Annabel's work before in Group Exhibitions and always seem to have an extremely positive reaction to her work. They are often the happiest paintings in the room. Hopefully this let's you know a bit more about her.
Annabel lives and works at home on a mountainside over-looking the Mediterranean sea an hour from Granada, Andalucia. Surrounded by mango and almond orchards, lavender, thyme and olive trees, she works in her open air studio melting beeswax to combine with oil paint and varnish, sand and earth. Her work is infused with the warmth of the sun. She is a slow painter, working spontaneously but also with an inherent attention to detail.

Annabel is a self taught papermaker. She gathers local plants and grasses and constructs large light filled multi media collage pieces and unique book forms with the resulting papers. She embosses, stitches and uses etching techniques to add details and texture to these papers, which provide a beautiful natural surface to work with.

Recently Annabel has begun mixed media work with water based media and continues to work outside with watercolour.
A competent, patient, uplifting and inspiring teacher, Annabel gives workshops in all these techniques when she's not working towards a show.
In 2016 the gallery 1de7 Espacio del Autor, Seville, presented her large scale paper work 'From Air to Earth' as Guest Artist at the prestigious Seville Art Fair, and later invited her to show both paintings and paper works at her solo show the same year.
Annabels latest solo show was at The Rowley Gallery, London in 2019. On exhibition were her small oils, watercolours, handmade books and sketch books.
She also exhibits in Spain, and is a member of the Costa del Arte Collective.

Large oils like "Burning Bright" 100cm x 140cm, convey perfectly her absolute love of the vaste and open spaces of the sometimes desert-like areas of Andalucia, sun and light drenched, and dotted with olive and almond trees, along with the beauty of the sunrise and clarity of the blue skies.
We are showing two other pieces of hers in this current show, After the Storm and Indian Heat.