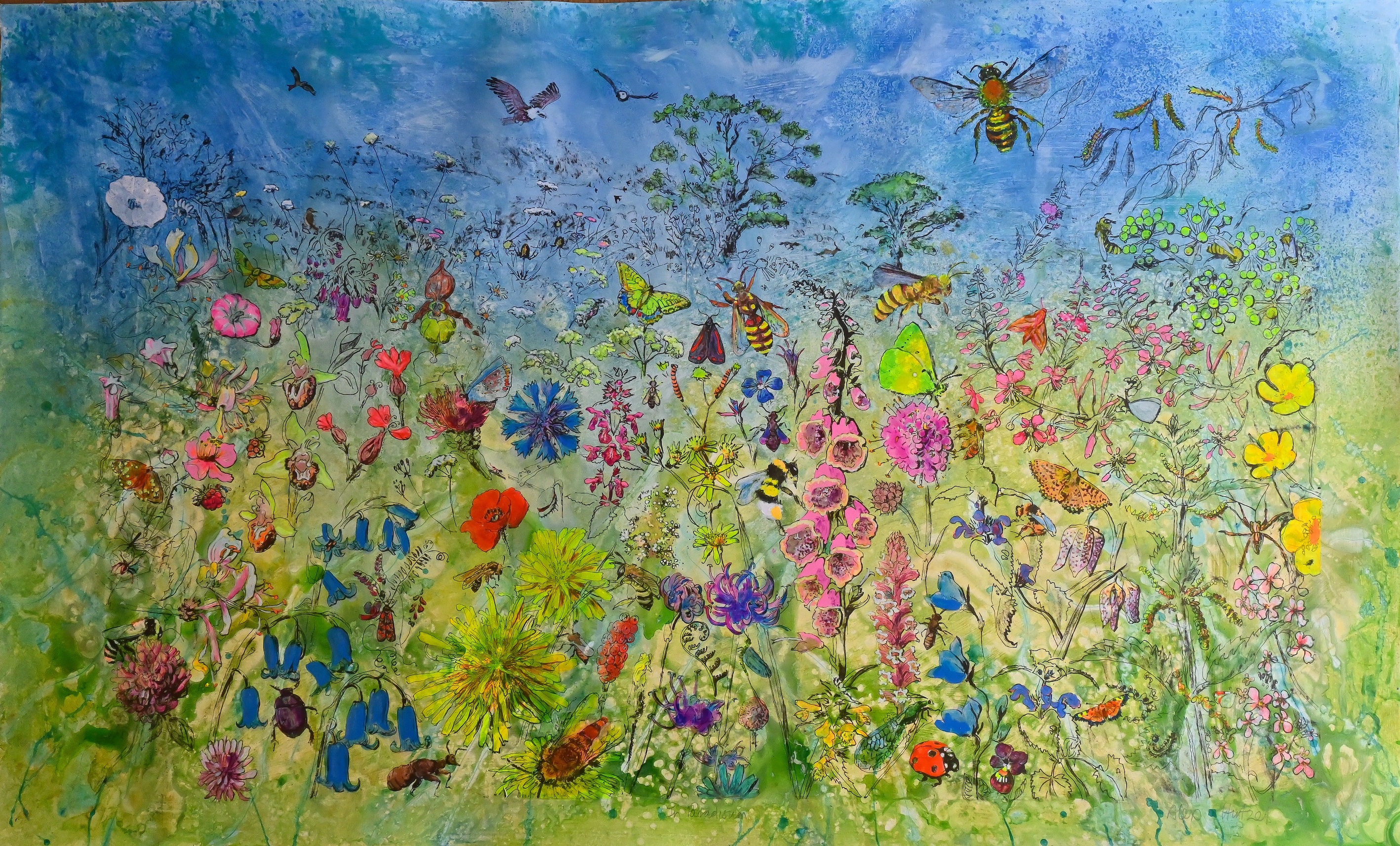 Alex Hirtzel
Moorwood Art has shown Alex's work a number of times throughout the years and is very happy to be showing her work again. There is always a real interest in what she is planning on showing, this year it is all about wild flowers and pollination and how the Bee sees the plants. Their wonderful colour and smell and for us to see if we can learnt the names!
IMPORTANCE OF FLOWERS
The interaction between wildflowers and their pollinators is a relationship over 130 million years in the making, and today we are lucky enough to see the fantastic diversity of floral displays these relationships have led to. Wildflowers are the wild, often unsown species, that are sometimes unfairly branded as weeds, but these species produce colourful and eye-catching displays to attract pollinators.
Many pollinating species rely on these wildflowers for nectar, pollen and other floral rewards. Unfortunately, in Britain and other developed countries, populations of wildflowers have declined since pre-industrial times due to the use of herbicides and degradation or loss of habitats that are rich in these wildflower species.
One of our main challenges is restoration of these wildflower rich habitats, particularly in agricultural areas. Actions such as adopting ecologically friendly crop systems, sowing strips of land with wildflowers and maintaining field margins can provide habitat for wildflowers to grow, and provide food for their many visitors.

SCENT PATTERNS
One of the most recognisable aspects of flowers to us as humans is their aroma. Over 1,700 of these blends of floral chemicals (called volatile organic compounds, or VOCs) have been discovered. They can travel for miles on air currents to attract pollinators, but they also work at a much closer range. A flower not only needs to attract a pollinator to it: it also needs to offer some tips on exactly which parts to pay attention to once its visitor arrives. Just as flowers have patterns of different colours creating visual contrasts, some areas of a flower release a different blend of scent molecules than others to help in guiding pollinators around.
These scent patterns are difficult for humans to detect, so specialist techniques and equipment are needed for us to identify the chemicals released from different parts of flowers. But to many pollinators, which have evolved powerful senses of smell, these differences in scent can be quickly identified.
Work undertaken in the 'bee lab' at the University of Bristol's Biological Sciences department set out to explore the function of these scent patterns. Using artificial flowers with differing scent patterns, researchers found that these patterns could be learned by bumblebees and used to identify rewarding flowers. They also help bumblebees find nectar more quickly and when combined with overlapping visual patterns: the bumblebees learn floral patterns faster.
When a pollinator encounters a flower, it is not just guided by the colours and contours, but by the subtle differences in odour that create a distinct aromatic experience.