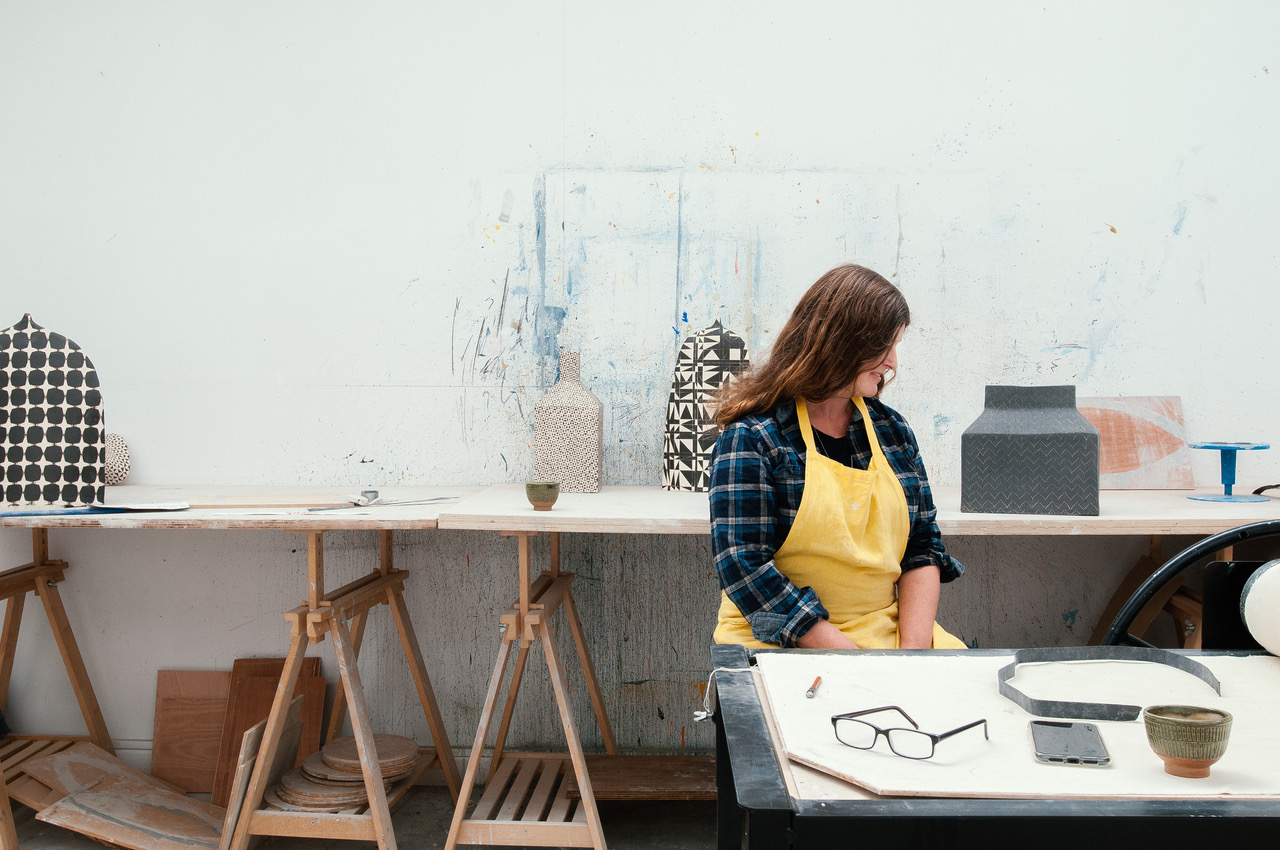 Her professional background is in Architecture and is a strong influence on her work. In addition she also references natural forms reflecting her upbringing in Iceland and exposure to the extraordinary in nature. Inspiration is found in anything from architectural form, natural materiality, and Nordic pattern and folklore

Architecture at the highest level is an incomparable creative endeavour but is also a complex journey between conservative legislators, fickle clients and black-cabbie critics. she first started making ceramics as an antidote to those creative chains; small architecture with no brief and no client. She has now worked as a ceramic artist for longer than it takes to become an Architect. Clay has replaced steel and glass but she still works as she was trained – pieces are planned and drawn before they are made, and made as they are conceived.

Her pieces are hand-built vessels which are manifestations of the enduring themes of her experience. They are a conversation between the pseudo -perfection of geometric pattern and the tactile impurity of hand-manipulated clay. They are not sterile and porcelain-perfect but visceral mini monoliths, which have layers of complexity built into superficially simple constructions. She deliberately create warped planes through the careful pattern cutting and jointing of would-be flat slabs so that vessels become deliberately and subtly off-kilter

The vessels are mostly built in stoneware clay and painted with slip which is then scraped back to reveal the base material in two-tone monochrome patterns. The scrape marks are visible and the surface is a plane of shallow relief, like an elaborate braille or a tapestry. The tactile nature of these pieces is important -they are an invitation to touch. People are generally afraid of ceramics and are puritanically hands-off. Some of her pieces are 'participative ceramics' designed to challenge this convention. Sealed cushions of clay encapsulate loose clay beads that create 'roulette wheel' sounds available only to the brave. She is particular about the cuts and punctures she make in her vessels. Openings – often arbitrary - allow the soul of each piece to come and go as they please.
Work by Björk Haraldsdóttir
Copyright 2022 Moorwood Art