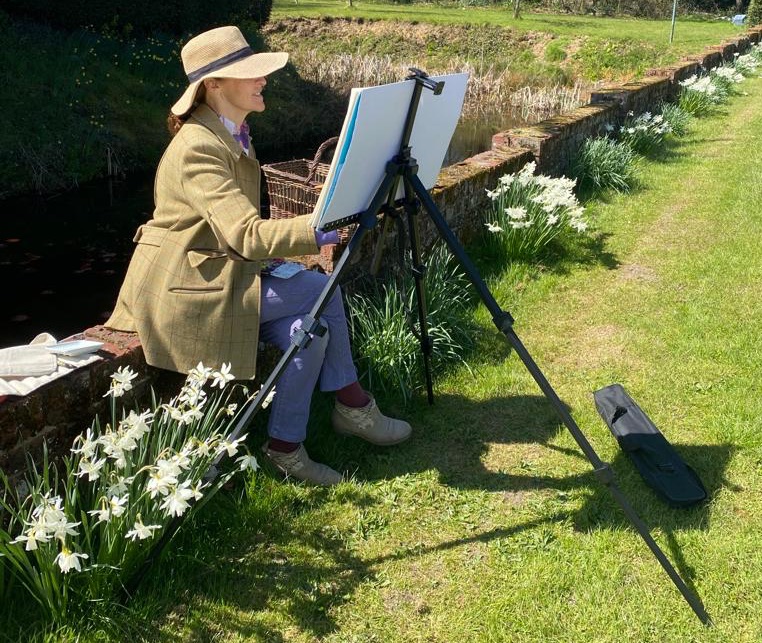 Nathalie de Liedekerke investigates transformations in nature through light, colour and line. Her practice began with botanical drawing, looking closely at flora as it unfolded and changed. She attended the Chelsea physic Garden botanical art course in 2016. Here she developed an eye for the fragility of plant life. Delicate botanical drawings considered these shifts in the light, colours and forms of the flowers as they bloomed and died. An expedition to Antarctica developed her interest in entropy and nature further. Here the landscape and ice caps could be jotted down in water colours, and the awareness of their shifting and melting transformation suggested in painting. Her watercolours allow for the eye and subjectivity of the artist to be felt, an attempt to record the fleeting landscapes in their present moment.
For this exhibition she will present a new series of watercolours on mountains.
She considers herself an autodidact with no formal art education. She has a background in art history and attended the Art History course at the école du Louvre in 1982 and the Christies Fine Art course in 1987. She has over 30 years experience working in the art world. She worked as an assistant curator at the Stanley Seeger art collection, at Bonham's Fine Art auctioneer and at Cadogan Contemporary Art Gallery. She ran her own art tours business Blue Artichoke from 2008-12.
Work by Nathalie de Liedekerke
Copyright 2022 Moorwood Art